In Stock
2021 Louisville Slugger Select PWR BBCOR Bat
Shakedown the thunder with the 2021 Louisville Slugger Select PWR. The Select PWR drop 3 is what every power hitter is looking for in a two piece hybrid bat. The 2021 Select PWR is sure to strike fear in the hearts of opposing players. The Louisville Select PWR provides unmatched power behind the ball and will surely deliver with every swing.
One of the most popular BBCOR models this season is the 2021 Select PWR. The Select PWR features the best combination of both speed and power. The Select PWR has just the right amount of end loaded swing weight to allow the hitter to maximize torque as well as barrel velocity. The Select PWR BBCOR is not as end loaded as other two piece BBCOR bats, which gives the hitter a much better feel and control though the zone with each and every swing.
The 2021 Select PWR is constructed with a two piece hybrid design featuring a composite handle and EXD alloy barrel for the ultimate in durability and performance. The EXD alloy on the 2021 Select PWR gives this BBCOR bat a massive barrel profile, and an incredibly responsive sweet spot.
The 2021 Select PWR also features Louisville Slugger's 3FX-PWR Connection System which allows for independent movement between the barrel and handle. The 3FX Tech impacts performance because it drastically reduces the handle flex when the barrel makes contact with the ball. All the hitter's energy is transferred into the ball with one goal in mind, POWER! It' is a simple equation; Stiffer handle and less flex equals more power and barrel performance. The 3FX technology in the 2021 Select PWR creates the perfect blend of power and feel at the point of contact, while at the same time dampening vibration and limiting bat sting.
Meets BBCOR Standard
Full 12 month Manufacture's Warranty
2 5/8" Barrel
Two Piece Hybrid Contruction
EXD Alloy Barrel
Composite Handle
PWR End Cap
3FX-PWR Connection System
Slight End Load swing weight for increased power
Available Sizes: 31 Inch, 32 Inch, 33 Inch, and 34 Inch
Weight Drop: -3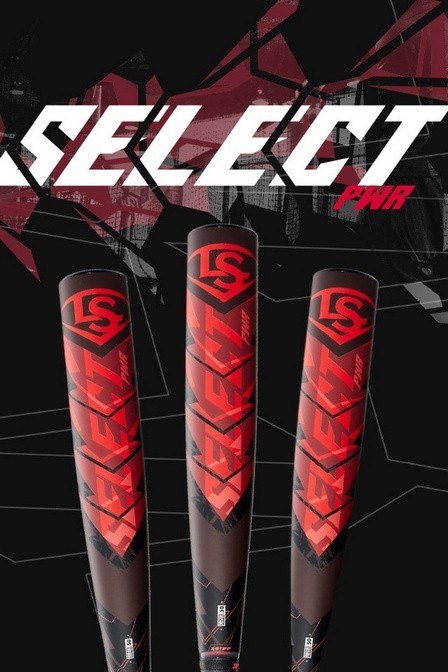 More Information

| | |
| --- | --- |
| Barrel Diameter | 2 5/8 |
| Certification | BBCOR |
| Bat Type | Baseball |
| Color | Black/Red |
| Hitting Style | Contact and Power Hitter |
| Bat Drop | -3 |
| Bat Material | Alloy and Composite Bat |
| Bat Size Range | 31in - 34in |
| Release Year | 2021 |
| End Design | End Cap |
| Swing Weight | Slightly End Loaded |
| Bat Series | Select PWR |
| Brand | Louisville Slugger |
| Condition | New |