$139.95

In Stock
Elevate your game with this Cargo 5 B45 Bat. This phenomenal Carlos Gonzalez bat is built for power with an end loaded swing feel. The Cargo 5 B45 bat features a tapered knob, .94" inch handle, and a large barrel. Swing the Cargo 5 B45 Bat for better control and top performance at the plate.
Key Features:
Free Shipping
Full 30-Day Manufacturer's Warranty
.94" Inch Handle Diameter
Large Barrel (2.5") Provides Huge Hitting Surface
B45 CarGo 5 Pro Birch Wood Delivers Excellent Durability
Cupped End Distributes Weight Perfectly Throughout The Bat
End Loaded Swing Weight
Drop -3 Length To Weight Ratio
Pro Select Yellow Birch
Player Model Crafted For MLB All-Star Carlos Gonzalez
CarGo 5 B45 Bat:
The B45 Cargo 5 is one of baseball's top-performing wood bats made popular by MLB All-Star Carlos Gonzalez. B45 wood bats are becoming more popular in the big leagues and beyond from the quality and flexibility found in every swing. These pro quality Yellow Birch wood bats are built for optimal performance at the plate with premium pop. Once Carlos Gonzalez made the switch to B45, he went on crushing homer after homer and noticed a significant decrease in his bat breakage rate. From Major League Baseball to Wood Bat Tournaments players trust B45 wood bats because they feel quality, attention to detail, and taste for useful innovation in every swing. This CarGo 5 B45 bat features a large barrel that tapers into a .94" thick handle. Players needing a bat for power as well as better control will enjoy the swing fell on this CarGo 5 B45 Wood Bat. This B45 Carlos Gonzalez bat is also backed by a 30 Day Manufacturer's Warranty and comes with Free Shipping!
About The Brand: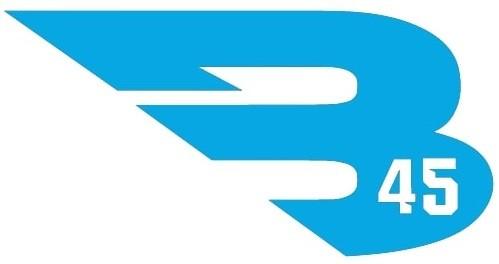 B45 is more than ever known for its quality and innovation in the wood baseball bat industry. Through years of collaboration among forest engineers and professional players, B45 offers the finest bats made throughout North America and the world. Approved for professional for more than a decade, B45 Yellow Birch bats are proudly handcrafted by former pro players who know the ins and outs the game and the importance of swinging a quality bat. Whether you are playing in the Show or in your Sunday morning league, B45 bat makers will handcraft your bat with the same passion and precision that will end up being the right wood bat for you.