In Stock
Bullet L Sreen With Overhead Protector
Five Year Warranty on Frame
7'H x 7'W L Frame with Hip Guard Protector & Rotational Overhead Screen
14 Gauge Galvanized Steel Frame
#60 UV Treated Nylon, Double Layer Pillowcase Netting
Heavy Duty 18 oz Vinyl & 1 ½" Impact Foam Padding
10" Solid Wheel Kit with Steel Plate Cover Option
Backed by the best Baseball L Screen warranty in the industry, The Bullet L Screen with Overhead the toughest L Screen on the market. This Bullet Screen was specifically designed for indoor sports facilities. The overhead feature is perfect for in-cage use to protect against balls coming down from above. Great for Left or right-handed throwers as the overhead can be removed and rotated to the correct orientation. Perfect for those organizations with both baseball and softball teams. The 1 ⅝" industrial-grade galvanized steel frame and #60 gauge nylon double-layered pillowcase netting is built to withstand the constant abuse of a commercial training facility, high school, college or organization. Match your team's colors, reduce batted ball ricochet, and protect the life of your netting with heavy-duty foam and vinyl padding. Add a wheel kit for ease of transportation on and off the field!
Better Baseball has over-engineered the Bullet Screen Series. The less moving parts the more durability. That is why this L screen ships in an 80'' long box. We also ship the overhead fully assembled in separate massive 65"x43" box. We did not cut any corners to minimize shipping costs as many of our competitors have done. It is impossible to ship a Professional Grade L Screen in a small box. All of the small component parts create too many failure points. At every step of the design process we prioritized durability and longevity over everything. Better Baseball is committed to ensuring that the facility owners, coaches, and players that use our Bullet Screens are getting the most durable Professional Grade L Screen on the market..
Specs
Product SKU: BULLETLOP

Overall Dims: 108"H x 84"W

Screen Box Dimensions: 80"H x 9"W x 16"L

Overhead Protector Box Dimensions: 43"H x 43"W x 5"L

Weight: 105 lbs (Not Including Wheel Kit)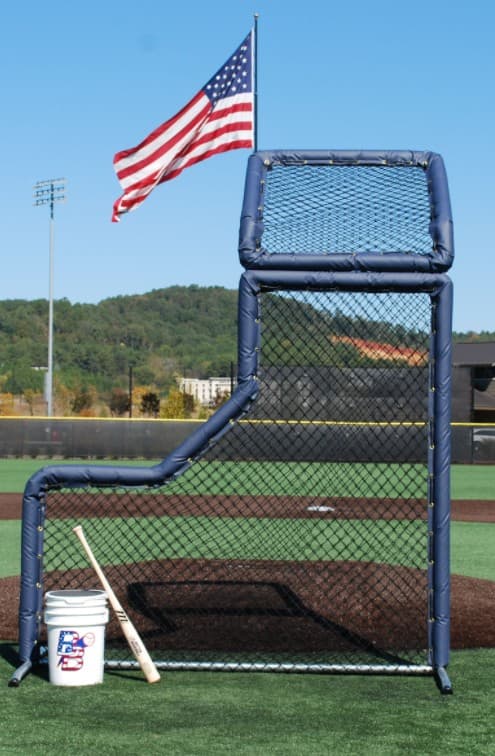 Built To Last
All the Bullet Baseball L Screens come with a
five-year warranty
. These L Screens are manufactured with a strong 14 gauge galvanized steel frame and #60 gauge UV treated nylon, double layer pillowcase netting. The Bullet L Screens frame is protected by a heavy duty 18 oz vinyl & 1 ½" impact foam padding.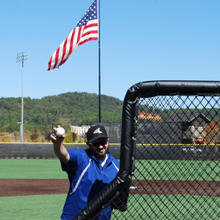 Perfect For Batting Practice
Protect your player and coaches with the most trusted L Screen brand in baseball. Pitching, fielding, and defensive screens available for all different training and practice drills.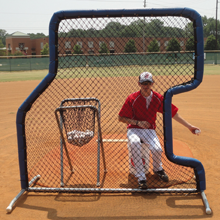 Versatile Designs
With 8 different L screens to choose from, the Bullet Screen Line will fit any coach's needs. You can also outfit your
Bullet L Screen
in 11 different custom colors.
Great For Indoor Sports Facilities
We have been
installing Sports Facilities
for 20 years and know firsthand the abuse L screens receive year-round. The Bullet L Screen's durable design is ideal for high volume, and high velocity training facilities.
More Information

| | |
| --- | --- |
| Item Condition | Select Option |
| Brand | Bullet L Screens |
| Condition | New |
Check items to add to the cart or