In Stock
Marucci Cat 9 Pastime Drop 10 USSSA Baseball Bat
The Marucci CAT 9 Pastime drop 10 bat will dominate the USSSA baseball scene this summer. With Marucci's upgraded bat technology, the Marucci CAT 9 Pastime USSSA bat will continue to break records for batters looking for a balanced bat that is easy to swing. The Marucci CAT 9 Pastime Drop 10 baseball bat was built to ensure faster bat speeds and top-performance for any level player.
Marucci CAT9 Pastime -10 USSSA Baseball Bat Key Features:
---
Free Shipping
Full 12-Month Manufacturer's Warranty
USSSA 1.15 Certified
Drop 10 (-10) Length to Weight Ratio
2 3/4 Inch Barrel Diameter
Balanced Swing Weight
One-Piece, Alloy Provides Traditional Feel
Red, White, & Blue Patriotic Colorway
AZR Alloy Provides Maximum Performance
Longitudinal Groove System (LGS) - Reduces Excess Weight & Increases Sweet Spot Flexibility
Multi-Variable Wall Design Creates a Huge Sweet Spot 
Ring-Free Barrel Construction Increases Barrel Flex & Maximizes Performance With No Dead Spots
Micro-Perforated Soft-Touch Grip With Extra Tack Improves Feel & Control
Precision Balanced Barrel Results In A Lower M.O.I. & Balanced Feel For Precision and Increased Swing Speed
Marucci CAT 9 Pastime USSSA Drop 10 Baseball Bat MSBC910A:
The Marucci CAT 9 Pastime drop 10 comes fully equipped with the new AZR aluminum barrel and a patriotic and bold american red white and blue colorway. Marucci's CAT series is known across the baseball world as one of the most balanced bats on the market. The Cat 9 Pastime drop 10 precision-balanced barrel helps increase bat speed and control through the zone. The CAT9 one-piece alloy construction provides a clean, consistent, balanced swing to meet the demands of any level hitter. Represent your country this summer with the all new Marucci Cat 9 Pastime design.
---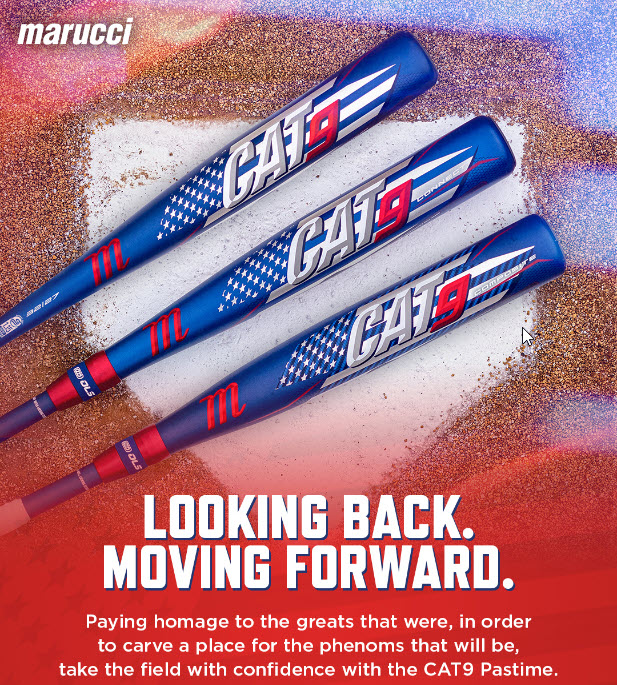 More Information

| | |
| --- | --- |
| Barrel Diameter | 2 3/4 |
| Certification | USSSA |
| Bat Type | Baseball |
| Color | None |
| Hitting Style | Contact and Power Hitter |
| Bat Drop | -10 |
| Bat Material | Alloy Bat |
| Bat Size Range | 27in - 31in |
| Release Year | 2021 |
| End Design | End Cap |
| Swing Weight | Balanced |
| Bat Series | Cat 9 |
| Brand | Marucci |
| Condition | New |