ALL ONLINE ORDERS SHIP FREE
Same-Day Shipping on Most Orders!
Free & Fast Delivery Details:
Valid to the Contiguous 48 United States
Select UPS Ground - No Coupon Necessary
Shipped to a Single Address
No Minimum Purchase Required
* Offer not valid on any non-online purchase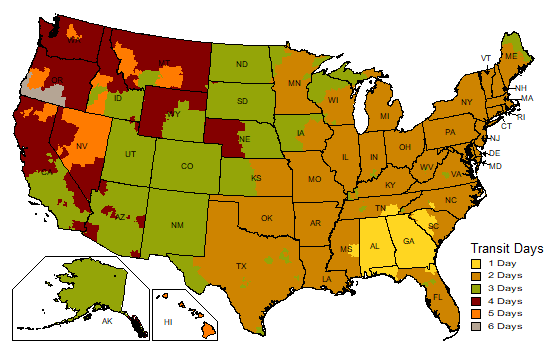 This Map Estimates the Number of Business Days for UPS Ground Delivery
Estimated Delivery is 1 to 5 Business Days
* Subject to delays due to outside circumstances
Order by 4:30 PM EST - Ships Same Business Day
Order after 4:30 PM EST - Ships Next Business Day
* Subject to delays due to outside circumstances
MORE REASONS TO SHOP WITH
BETTER BASEBALL
MORE REASONS TO SHOP WITH BETTER BASEBALL
Our Experts are Happy to Help!
Yes! We offer UPS Next Day Air® & UPS 2nd Day Air® at checkout for an additional fee.
International shipping is available on Better Baseball manufactured items only.
All customs, duties, taxes, surcharges, and brokerages are the responsibility of the customer. When delivery is attempted the aforementioned fees may be collected by your country's customs service where applicable. These fees are separate from shipping charges and are charged by your local authority, not BetterBaseball.com®.
Please be aware of your country's import laws prior to making your purchase with Better Baseball®. We are unable to designate orders as "Gifts" or otherwise. Orders to most countries will be shipped via USPS and a tracking number will be provided as soon as it is available.
Large items, such as pitching machines or batting cages are sometimes shipped via freight line. Our team is happy to assist you with a shipping quote. The standard shipping rates do not apply to these items.
Whatever Conditions
Our bicycle are designed to keep you riding, in whatever conditions.
Day or night. Rain or sunshine. On road or mountain. Nothing can prevent you from riding.