PICTURES OF CRACKED COMPOSITE BATS
COMPOSITE BAT BREAKS
With the weather outside getting colder and colder its important to understand the necessary steps you should take to make sure your composite bat stays intact and in one piece for your next game or tournament. In this report we are going to go over some reasons why composite bats break or crack and some different ways and techniques you can take to make your compost bat last longer.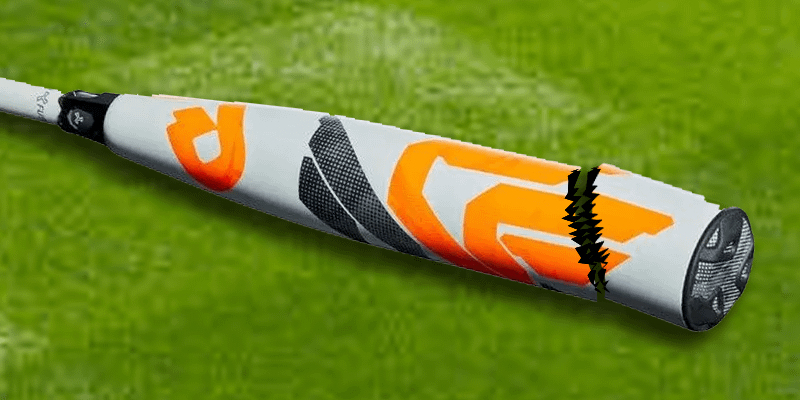 WHAT IS A COMPOSITE BAT MADE OF?
Regardless of manufacturer, most composite bats share the same general make up and construction. All composite barrels feature some type of carbon fiber weave held together with different epoxy resins and hardeners. The way these composite barrels differ are the type of carbon weave, the type of resins and how they are fabricated.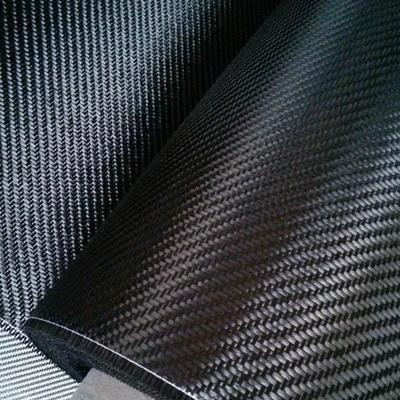 HOW COLD IS TOO COLD TO USE A COMPOSITE BAT?
Composite bats can break or crack for a variety of reasons, but if you follow the advise we give you below you should avoid these issues and decrease the chance of your composite bat breaking earlier than expected.
If you have ever looked at the small pieces of paper under the plastic wrapping of a new bat, don't worry most people don't, you would see exactly what most brands recommend for new composite bats. Most manufactures will tell you NOT to swing a composite baseball bat in temperatures of 60 degrees or less. Through our vast knowledge and experience the real "red-line" number is 45 degrees but swing with caution. The reason why composite bats and cold weather don't mix is due the the physics of the carbon fiber material. The colder the weather the less elasticity of the resin holding the carbon weave together. If the barrel is hit just right in cold temperatures of 45 degrees or less, the resin won't stretch and will eventually rip and crack. Composite barrels in colder temperatures not only aren't good for durability but performance as well. The colder the temps outside, the less trampoline effect of that composite barrel. If you plan to play a lot of games in early spring or primarily play up north, you might want to consider an alloy barrel due to this reasoning.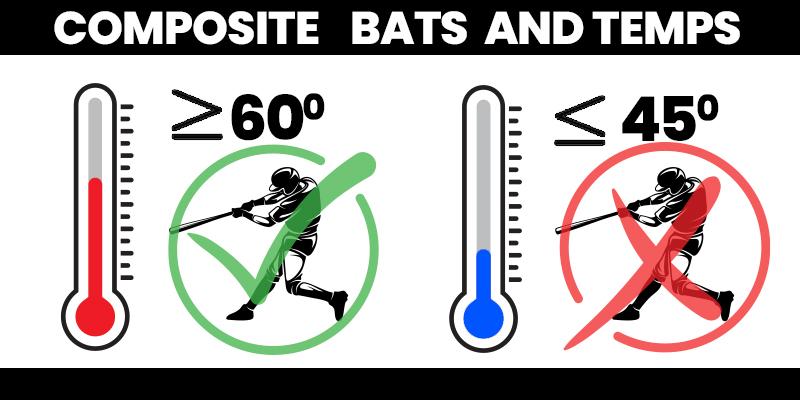 DID YOU KNOW ALL COMPOSITE BATS REQUIRE A BREAK IN?
It doesn't matter if its USA, USSSA, ASA or even BBCOR, you should always take the time to evenly break in your composite barrel. One of the most common sources of barrel cracking is the lack of a proper break in period. The easiest and safest way to break in a composite bat is to just hit with the bat and rotate the barrel 15 degrees (or one quarter turn) after 8-10 hits. This way the whole barrel will be broken in and it won't have any dead spots or unbroken in areas. With BBCOR bats. the break in times are much less and sometimes it only takes one to two sessions of BBCOR to really warm up that barrel. With USSSA or ASA composite barrels, its important to really focus on the sound with breaking in a composite barrel. The acoustic output after a hit can determine if that part of the barrel is broken in or not. A fully broken in barrel will last a lot long than on that is only broken in on on side.
HOW TO PROTECT A COMPOSITE BAT IN COLD WEATHER?
As mentioned above, cold weather can lead to major issues with composite bats. To keep your composite bat safe from cold temperatures, we highly recommend using the protective bat sleeves below. Not only will the protective bat sleeve keep your bat safe in cold weather, but it will also help keep it safe from moisture, dirt, and other contaminants.