Standard Shipping Information
Standard Shipping is available to all locations with the 48 contiguous United States. Standard Shipping orders will be processed and shipped within 24-48 business hours. If an item is on back order you will be notified via email or phone of the back order and expected delivery date.
Shipping by UPS or FedEx can take 1 to 5 business days for delivery within the continental United States. For shipments to Hawaii and Alaska we suggest using 2-Day Air. The map below estimates the number of business days required for you to receive your order. This map is an estimate provided by the carrier and times are not guranteed.
Standard Shipping and Express Shipping times are subject to delays due to inclement weather and other uncontrollable circumstances.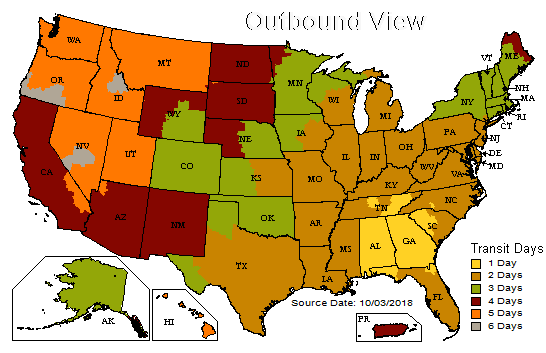 Express Shipping Information
Express orders placed by 1pm EST for in-stock items will be shipped the same business day (Monday-Friday).
Express orders placed after 1:00 PM Central on a Friday will be shipped the following non-holiday business day.
Large items, such as pitching machines or batting cages will be freight shipped and a quote will be provided within 24 hours of placing your order. The standard shipping rates do not apply to these items.
International Shipping Information
Please be aware that all customs, duty, taxes, surcharges and brokerages are the responsibility of the customer. When delivery is attempted the afore mentioned fees may be collected by your country's customs service where applicable. These fees are separate from shipping charges and are charged by your local authority - not BetterBaseball.com®.
Please be aware of your countries import laws prior to making your purchase with Better Baseball®. We are unable to designate orders as "Gifts" or otherwise. Orders to most countries will be shipped via USPS and a tracking number will be provided as soon as it is available.
Contact us at 1-800-997-4233 with any questions or email us at [email protected].
Return Policy
We understand that sometimes an item needs to be exchanged or returned for any number of reasons and Better Baseball is here to help. If you are not 100% satisfied with one of our products, you may return it within 30 days of purchase for a refund.
Better Baseball will gladly exchange any new (unused*) product. Please click on the link below to begin the return process.
https://betterbaseball.myreturnscenter.com/
We do require proof of purchase from Better Baseball to honor a refund or exchange. If you provide us your information when you check out, we will typically have a record of your purchase. Otherwise, we require a physical receipt.
*Once a bat is taken out of its wrapper it is considered used. Better Baseball will not accept returns on any out of wrapper or used bat. Make sure you have the correct size before unwrapping or using your bat. NO EXCEPTIONS!
Please include your proof of purchase with the products you wish to return or exchange and bring it with you to any of our stores, or include it in your package of returned item(s). Once we receive your return we will reimburse the original purchase price to either your original method of payment or as a merchandise credit.
Team and Custom Orders
Team orders are subject to a 15% restocking fee determined at our discretion. Exceptions to this policy will be made if the item sent did not match the original item ordered (wrong size, color, model, etc.) Before processing a return or exchange for a team order please contact our team sales department at 1-800-997-4233 or email them at [email protected]
Custom orders are not eligible for return or exchange due to the customization of the item(s). All custom orders are final.
Return by Mail
Please contact our returns department before returning any items. All returns and exchanges must be issued a Return Authorization Number by our returns department. Once a Return Authorization number has been issued you can download the RMA Form  and follow the instructions. A courtesy return label will be issued for most items however some items due to their size and weight are excluded from this courtesy. All returned items must be received within 10 days. Please insure any returned merchandise, as we cannot be held responsible for lost packages.
If you have any questions please call our friendly customer service personnel at 1-800-997-4233 or you can email us at [email protected]
Return Address:
Better Baseball
132 Carruth Dr.
Marietta, GA 30060