FREE SHIPPING ON *ORDERS $75 OR HIGHER
Better Baseball is proud to offer Free Shipping on orders over $75.00 within the contiguous 48 United States. Select ground shipping as your method, no coupon necessary. The amount to qualify for free shipping must be equal to or greater than $75.00 after discounts and before shipping fees. Order must be shipped to a single shipping address. Oversize shipping fees may still apply. *May not be used towards the purchase of select items including, but not limited to: wheeled equipment bags, athletic turf, portable pitching mounds, on-field maintenance equipment, bases, and plates, rebounders and backstops, pitching machines, baseballs or softballs, team orders, or other items considered to be overweight or oversize.
Standard Shipping Information
Standard Shipping is available to all locations within the 48 contiguous United States. Shipping by UPS or FedEx can take 1 to 5 business days for delivery within the continental United States. For shipments to Hawaii and Alaska, we suggest using 2-Day Air. The map below estimates the number of business days required for you to receive your order with standard ground shipping. This map is an estimate provided by the carrier and times are not guaranteed. Once again these are estimates given to us by our carriers UPS and FedEx based on average transit times to the locations on the map below and are not guaranteed. If you have a time-critical event we recommend upgrading to expedited shipping. Please call to speak to one of our baseball specialists with any questions regarding transit times and to ensure you get the product needed to improve your game.
Standard Shipping and Express Shipping times are subject to delays due to inclement weather and other uncontrollable circumstances.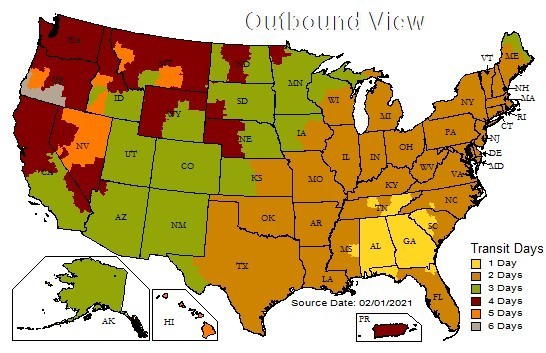 Express Shipping Information
Express orders placed by 4:30 PM EST for in-stock items will be shipped the same business day (Monday-Friday).
Express orders placed after 4:30 PM EST on a Friday will be shipped the following non-holiday business day.
Large items, such as pitching machines or batting cages are sometimes shipped via freight line. Our customer service and sales staff would be more than happy to assist you with providing a shipping quote. The standard shipping rates do not apply to these items.
International Shipping Information
Please be aware that all customs, duties, taxes, surcharges, and brokerages are the responsibility of the customer. When delivery is attempted the aforementioned fees may be collected by your country's customs service where applicable. These fees are separate from shipping charges and are charged by your local authority - not BetterBaseball.com®.
Please be aware of your countries import laws prior to making your purchase with Better Baseball®. We are unable to designate orders as "Gifts" or otherwise. Orders to most countries will be shipped via USPS and a tracking number will be provided as soon as it is available.
Contact us at 1-800-997-4233 with any questions or email us at [email protected].